Christy is a Candidate Legal Practitioner at Power & Associates.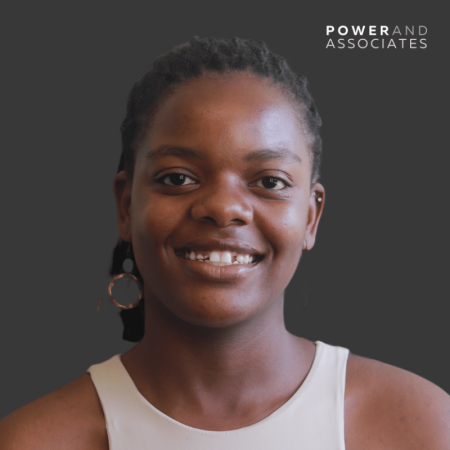 Supporting urgent litigation at the Constitutional Court of South Africa in a matter concerning the performance of Presidential obligations.
Supporting litigation in a matter seeking to review authorisations by the South African government permitting the sales of arms used in the humanitarian crisis in Yemen.
Supporting litigation seeking to ensure that environmental activists are allowed to engage in public participation processes with the City of Johannesburg.
Amplifying voices for change.

Christy is a Candidate Legal Practitioner at Power & Associates. She holds B.A. and LL.B. degrees from the University of Johannesburg and is currently completing her M.A. in Migration and Displacement at the University of the Witwatersrand, having been awarded the Mandela Rhodes Foundation Scholarship for postgraduate study.

Before joining Power & Associates, Christy was a Tech Rights Fellow at ALT Advisory with a focus on data privacy, information rights and emergent technology. Prior to that, Christy clerked at the Constitutional Court of South Africa (2022, Justice Steven Majiedt), as a foreign clerk for six months. She worked as an intern at SECTION27 where she worked on matters relating to the right to basic education (2018-2019). Thereafter, Christy completed an internship at Lawyers for Human Rights as part of the Refugee and Migrant Rights Programme where she consulted clients and drafted submissions to refugee appeal bodies (2019).

Christy joined Power & Associates in January 2023 as a Candidate Legal Practitioner, where she will assist the legal team in all matters in order to become a fully qualified attorney.

Christy has a keen interest in improving migrant and refugee policy in South Africa. She is particularly interested in understanding the interplay between access to information and its impact on fundamental rights such as basic education.
Working for a sustainable future.